COVID-19 Update: Due to the current health scenario around the world, Scrum Alliance has taken the decision to conduct CSPO workshops virtually. Workshops will still be conducted LIVE and run by Certified Scrum Trainers (CST).
Participants will join remotely from their home or office and will have similar opportunities to interact with the trainer as well as your table mates. We are working with Scrum Alliance to ensure that the experience is not effected - the objective is to make the session as interactive and fun as an in-person one. We will be using online tools such as Zoom, Padlet, Flipgrid and more to enhance the training experience.
Social isolation is the best way to beat the virus and this measure is geared towards the same goal of keeping everyone safe while continuing our learning. Although this is a temporary measure, based on current expert understanding, it seems likely that in-class CSPO workshops might remain suspended until the Fall season.
Learn to be an effective Product Owner. Open doors towards a market that demands Agile and Scrum professionals.
Our workshops are not a one-way knowledge transfer. Participants play, build, create, debate and collaborate throughout the learning process.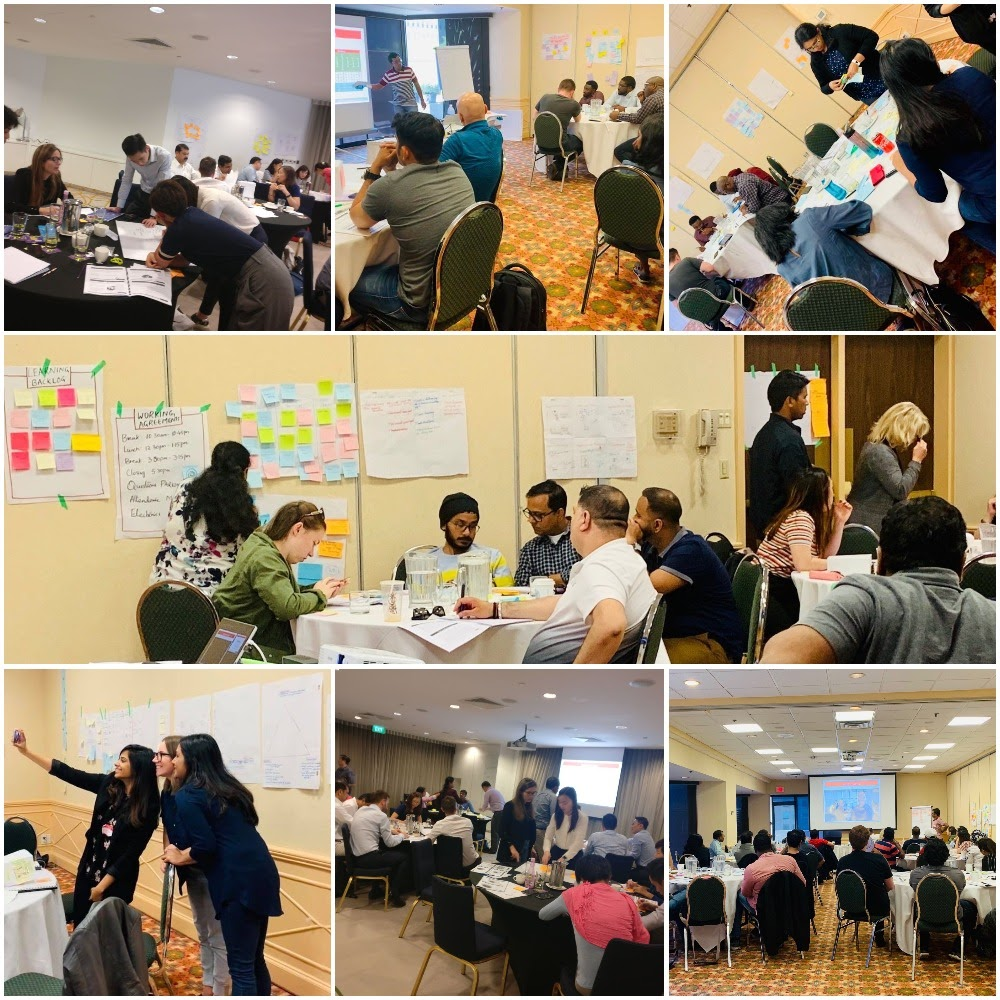 What Past Participants are Saying
'Completed my CSPO certification from Skillbook Academy. Excellent trainer and very well managed event' - Rose Cantwell, Project Manager
'Very engaging and lively CSPO workshop - we worked through a product life cycle using games and role play. Amazing mentor' - Pranjal, Product Owner
'Hands on training style, agile consulting experience and up to date trends knowledge made learning experience both resourceful and fun' - Sheraf Sam, Project Manager
'Complex areas were made easy to understand through various full filled games and activities' - Sommita, Agile Coach
'Great instructor. Interactive class. Learned a lot' - Amir Depour, Senior Product Manager
What Participants Get
CSPO® certification after attending the workshop; no exam requirement
Workbook and reference guide
2-year membership with Scrum Alliance
Access to a specially designed logo to highlight your certification
Profile page on the Scrum Alliance website
14-16 PDUs & 16 SEUs
Payments towards this workshop may be eligible for tax purposes
Tips and tricks from our experienced CSTs' years of using Scrum in a wide variety of environments
Why Get certified?
Scrum Alliance® certified individuals:
Earn 15% more on average (Source: Payscale.com)
Has higher resume visibility
Has more credibility in the industry
Is apart from the crowd
Stays marketable
Is CSPO® certification right for you?
If you are a current or aspiring:
Product Manager/Owner
Project manager or Middle Manager
Business Analyst
Developer or Test engineer
Scrum Master
Technical Lead, Architect
Any other Development related roles
Any role that requires you to solve complex problems
Then this workshop is built just for you.