Once upon a time in Utah, at the peak of the dot-com recession, a group of IT professionals met at a ski-resort to discuss the future of software development.
Back then, all major companies relied on commercial software applications which neither fully concurred with business requirements nor allowed customization. It frustrated all the group members and motivated them to change it.
Soon a new movement emerged with an agenda to prioritize customer collaborations, human interactions and change responsiveness in software development practices.
Today, we call it agile and it's not only about product development anymore. Agile is changing work as we know it and the results are very telling. Recession caused by the pandemic lasted only for 2 months.
So if you're wondering 'How are organizations able to achieve and scale agility?' The answer is 'Scaled Agile Framework,' according to Gartner.
What is SAFe® and How does it Ensure Business Agility?
SAFe® aligns strategy with execution to inspire a responsive work culture. This helps you develop and maintain a portfolio of products and services that meet the developing needs of customers and the organization itself.
Focuses on the customer centric design to build the right products for the right people at the right time.
Helps identify and optimize value streams using collaboration between technical and business teams to get products to market faster.
Encourages incremental product development and supports teams with rapid learning initiatives and proven best practices from across the globe.
Transforming into a SAFe® Organization
Changing set patterns, including your people's habits and attitudes, is not that easy. As for transformations; they are unique for each organization. While we congratulate you on arriving at this decision, here's a brief on how to get started and go about your transformation business.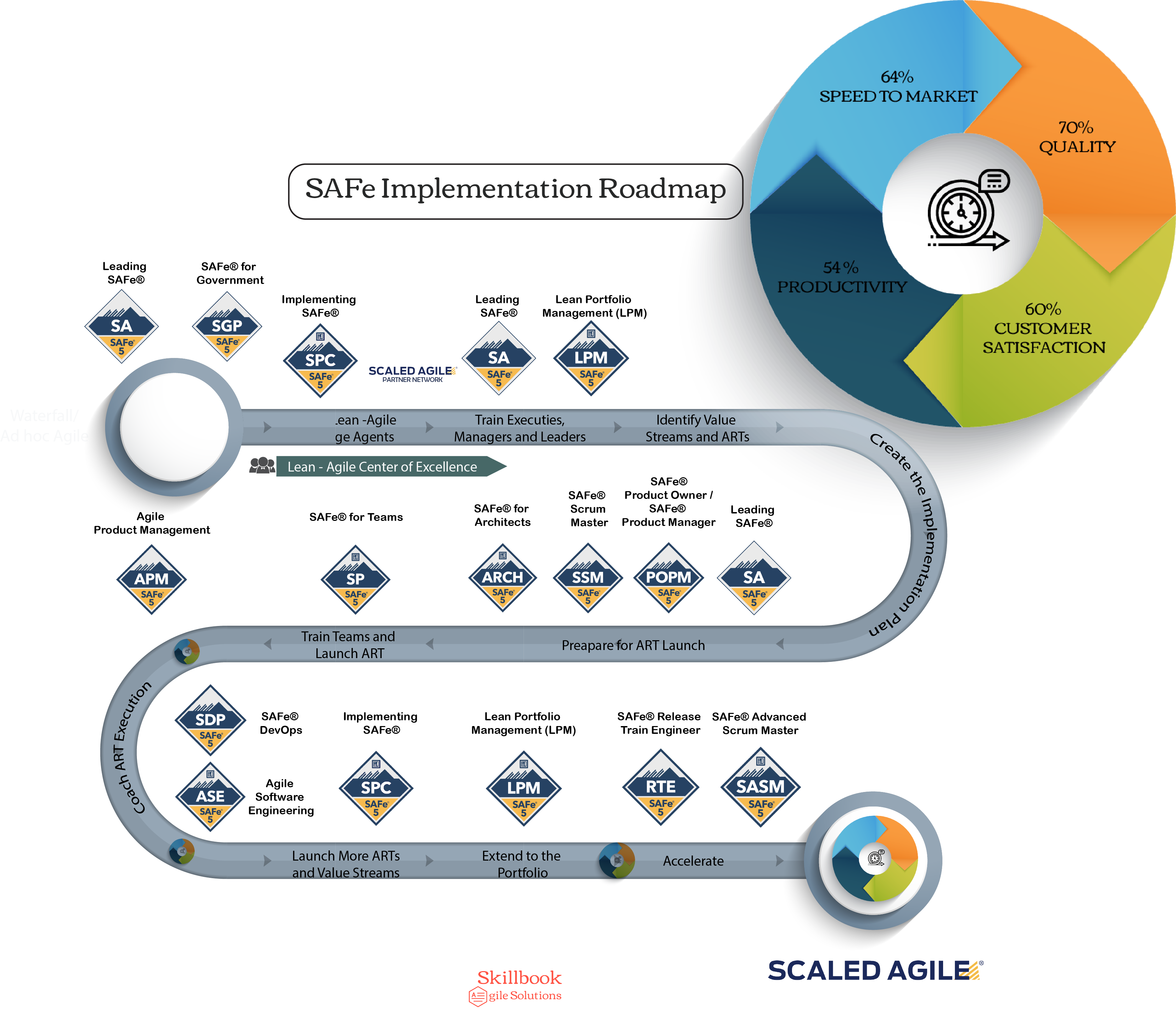 Define Your Purpose
Before you put in your transformation efforts, it's important to define your purpose of transformation. Maybe the current waterfall approach is burning you out or an unprecedented change is around the corner or for competitive advantage. The first step towards driving transformations begins with communicating a clear need for change and getting people to agree with you.
Train Lean-Agile Change Agents
The second step is to build a powerful coalition between stakeholders which enables you to guide and seamlessly drive transformation. We do this by identifying potential change agents, and training them to become SAFe® Program Consultants (SPCs) to guide SAFe® implementation across the enterprise.
3. Training Your Leaders
SAFe® puts a lot of emphasis on leadership and management teams. The success of your SAFe® implementation efforts depends on how your leaders are for the change. To pioneer this organizational-shift at all levels, managers, executives and business leaders should develop a Lean-Agile mindset. SAFe mandates the Leading SAFe® certification course for leaders to help them understand their roles and responsibilities and prepare them for the journey.
Boost your agile leadership skills and guide your teams to agile with our two day Leading SAFe® 5.1 (SA) Certification training.
4. Building a Center for Lean-Agile Excellence
A Lean-Agile Center of Excellence (LACE) is a small cross-functional team whose primary role is to ensure a seamless transformation. Once it is set up, the LACE becomes responsible for communicating the vision and urgency for the change, creating an implementation plan, executing it and identifying and fulfilling the training needs of the enterprise.
5. Identify Value Streams and ARTs
A value stream is a central construct for identifying, optimizing, and delivering value in SAFe®. Each value stream comprises a series of steps required to create and deliver value to our customer. Once you define your value stream, the next step is to design Agile Release Trains (ARTs) and ensure that they are effectively releasing value.
6. The Implementation Plan
Once you're done setting up an ART, you can start working on an implementation plan but with an agile mindset. It means that you shouldn't assume that you can plan everything upfront. Just planning what you want to do now is enough so that we can get things started and improvise from now on. So all you have to do is pick the first value stream, finalize an ART, and create a simple plan for additional ARTs and value streams.
7. Preparation for your First ART Launch
Now that you've planned your first move, it's time for you to implement it and prepare for a successful ART launch. Your SAFe® Program Consultants (SPCs) often take the lead for your initial ARTs, with the help of LACE and SAFe®-trained stakeholders.
From the change-management standpoint, getting your first ART launch right is critical. The success of your ART depends on how well you have trained your ART leaders and stakeholders to execute it. This includes providing SAFe training for your Agile teams, Product Managers, Product Owners, Scrum Masters, and developing launch readiness.
Perhaps the most challenging part of the journey so far is to prepare a Program Backlog to enable your Product Owners to reimagine solutions and redefine requirements.
Gain the skills you need to develop high value products using agile with our SAFe® 5.1 Product Owner/Product Manager (POPM)
8. Launching Your First ART
After training the key ART stakeholders and preparing a launch plan, it's now time for training your teams and launching ARTs. This is where SAFe® for Teams training comes in. It's recommended that these learning sessions happen in big rooms for accelerated learning through live collaborations and fun while also being cost effective.
Although there are many ways to launch an ART, the best way is to follow a Quick Start method where SAFe® for the first Program Increment planning session happens soon after the SAFe® for teams session.
Once you finish the PI Planning event, the first ART will be officially launched.
9. Launch More ARTs and Value Streams
You have successfully launched your first ART and coached your teams and leaders on how to plan and execute PI. Now it's time for you to apply the same to other value streams by following the same above as prescribed by SAFe®. That is how you captivate the benefits of SAFe®, like faster time-to-market, higher quality, higher productivity, and increased employee engagement. Once you see the results, you know that you've become an agile unit.
Extending the Portfolio
If you've successfully launched more ARTs, you will be at the heart of transformation within your organization. Eventually more demands come your way seeking to enhance business agility from this new way of delivering value. This is when you should consider SAFe® Portfolio management and its guidance on implementing a Lean Portfolio Management (LPM) function.
11. Sustain and Scale
Making it this far on the implementation roadmap deserves a pat on your shoulder. So well done! But the question you need to ask yourself at this point and beyond is — how to sustain and agility for the entire organization. This is when you should go for advanced SAFe® courses like SAFe® Release Train Engineer (RTE) and SAFe® Advanced Scrum Master (SASM).
Checkout our complete agile courseware and begin your SAFe transformation journey today.

Finally, a stern focus on relentless improvement, ongoing leadership training, strengthening LACE, measuring progress and integrating DeVops practices are key to achieving and sustaining business agility.
We also know that the road to a successful SAFe® implementation has never been easy. But with agile adoption rates increasing to 86% within teams and more organizations embracing SAFe®, it is definitely not the road less travelled either.
So wish you a SAFe® transformation Journey!