It's that time of the year.
We've been waiting for this with crossed fingers and high hopes.
From water cooler talks to zoom chats, stand-up calls to board meetings, the anticipation is everywhere and everybody is asking the same question.
Will I get a raise? If yes, then by how much?
We know, this remote work has been a little harsh on you. You put in extra hours and absorb extra pressure to enhance your team's performance. You definitely deserve a raise for that.
But if you want something that can guarantee you a pay raise and boost your career growth,then this article is meant for you.
Certified Scrum Masters earn a whooping 40% more than their uncertified peers and it takes only two days to become a CSM. In addition to that, Scrum Master also made Glassdoor'slist of 50 best jobs in the US in 2020, meaning more career options and faster growth opportunities.
Certified ScrumMaster (CSM) Salary 2022
As more and more companies adopt agile methodologies, the demand for scrum masters is rising rapidly. Organizations across the globe are offering lucrative packages to scrum masters who can lead their teams through agile projects.
However, various factors like experience, location, industry and certifications influence the annual pay. To get a comprehensive idea, let us imagine a profile of a candidate who has just finished his CSM certification.
Note:- This is only a typical profile, not ideal. In no way the above table indicates that candidates from non-IT backgrounds cannot pursue scrum master roles or earnless. In heavily regulated industries like healthcare, the compensations are even higher.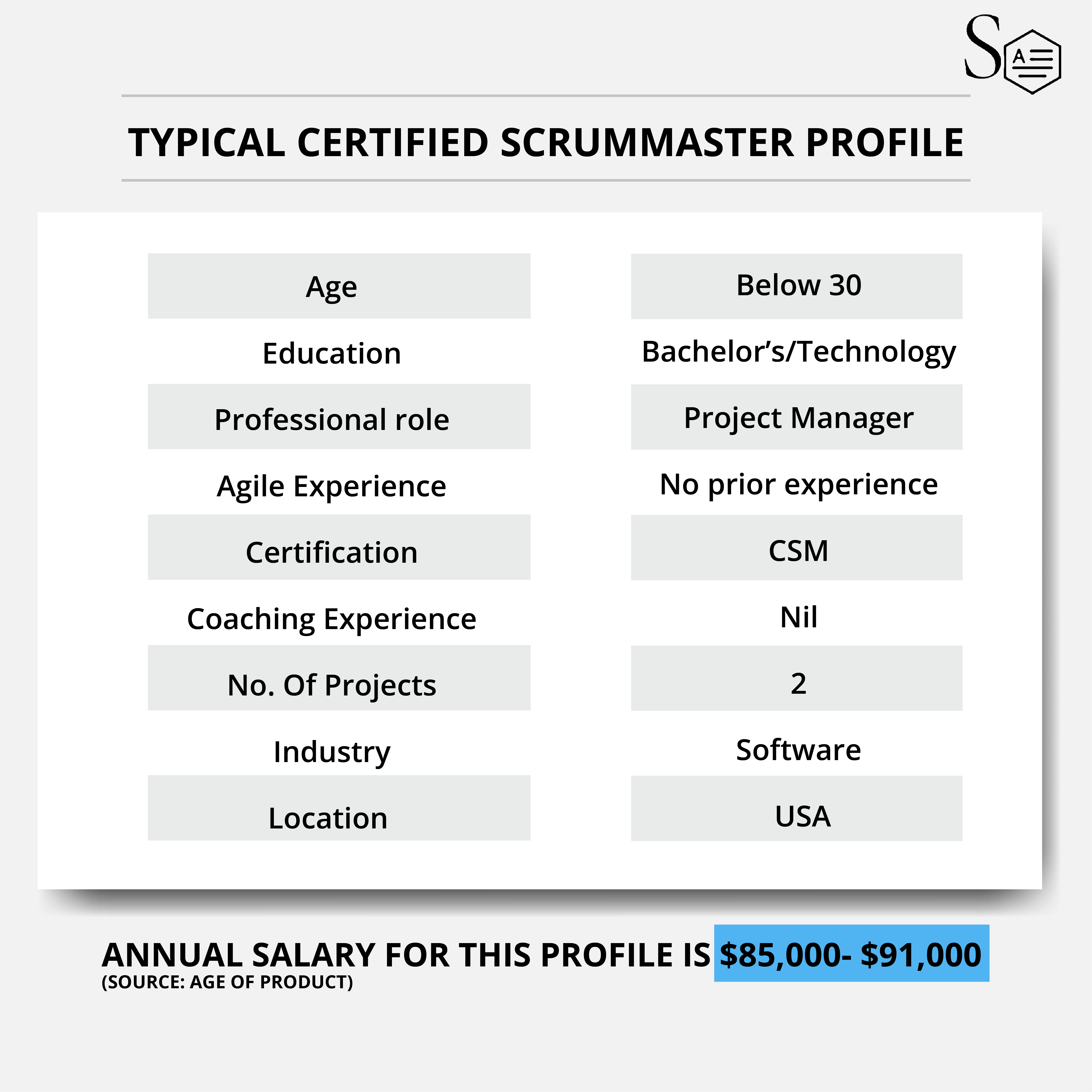 Average Salary of Scrum Masters based on Experience.
According to a survey by Age of Product, the average salary of a scrum master with an entrylevel certification and no previous agile experience is $85,000 with an error margin of $8000. As you gain more experience, annual compensation also keeps increasing.


| | |
| --- | --- |
| Years of Experience | Annual Salary |
| 0-1 | $85,000- $ 91,000 |
| 2-4 | $91,000- $ 110,000 |
| 5-9 | $112,000- $125,000 |
| 10-19 | $125,000- $140,000 |
| 20+ | $ 140,000+ |
Country wise Scrum Master Salaries
Like with any other job role, product or service, the location of the organization is also an important factor while calculating scrum master compensation. It may further vary depending on which state the organization is located.


Salary based on Certifications
As you continue the scrum journey, Scrum Alliance provides more certifications to keep you updated and upskilled. CSM is an entry level certification which is valid for two years. To continue further, you either have to renew your membership or opt for advanced certification. More certifications means longer experience and higher credibility, thus higher packages.

Advance Certified ScrumMaster: The A-CSM is an advanced scrum course intended for individuals with at least 1 year scrum experience. This course will advance your foundational scrum leadership skills to match the day-to-day contextual challenges of leading a scrum team. It will also validate your experience and boost your profile in the global job market. The average salary of an ACSM is around $120,000 in the US.
Certified Scrum Professional-ScrumMaster: After working as ACSM for at least two years, you become eligible to take the Certified Scrum Professional- Scrummaster credential. This course will not only build upon your scrum coaching and facilitation skills, it also informs you on critical leadership skills such as emotional intelligence, systems thinking and lean operations for scaling scrum. The average salary of a CSP- SM is around $135,000 in the US.
Certified Scrum Trainers: Next on the scrum master growth path is the highly coveted, Certified Scrum Trainer credential certificate. After gaining commendable experience in leading scrum teams and transformations, you get to work with Scrum Alliance. Certified Scrum Trainers (CSTs) are highly revered and make an average salary of $ 150,897 according to Ziprecruiter


| | | |
| --- | --- | --- |
| | Certified Scrum Trainer Salary | |
| Percentage | Annual Pay | Monthly Pay |
| Top Earners | $352,000 | $29,333 |
| 75th Percentile | $163,000 | $13,583 |
| Average | $146,867 | $12,238 |
| 25th Percentile | $65,000 | $5,416 |
Future of Certified Scrummaster- Growth rate

According to a study by the World Economic Forum, 33% of high-demand roles in product development will be Scrum related by 2022. Moreover, the demand for Certified Scrum Masters and Scrum professionals will increase by 37.9% in this decade.
So, starting your career as scrum master is the best thing right now for your career. Whether you are a project manager, product owner, entrepreneuer or even a non-IT professional, scrum is the most fulfilling path to high value leadership and excellence.
Make the right move at the right time, because your career is not a GI Jane 2 joke.
All the best.