Leaders choose from various project management frameworks and methodologies to help manage their teams and projects.
Usually, factors such as the type and size of the projects and programs, expectations on execution and delivery, and time required to complete each task together can help determine the best framework for achieving your organization's goals and delivering optimal results consistently.

But what is SAFe?

The Scaled Agile Framework (SAFe) is an Agile project management framework focused on flexibility, continuous iteration and improvement, and cross-functional collaboration between teams and stakeholders.
SAFe can be used to manage and execute more extensive projects. It is instrumental in software development and enterprise product management as they are the ones that deal with projects and programs on timelines with continuous improvements, upgrades, and iterations released and delivered to customers over some time.

Recently the latest upgrade has come out, SAFe® 6.0 which includes expanded guidance on OKRs (objectives and key results) and improved tools for measuring competency and flow. These refinements will enable teams to deliver better outcomes.
What are SAFe Certifications?

A SAFe® or Scaled Agile Framework certification is a 2-4 day course that teaches you more about SAFe as a whole.

There are various SAFe® certifications out there that can help you reach the career of your dreams but finding the right one that aligns with your organization can be a problem, some of them are;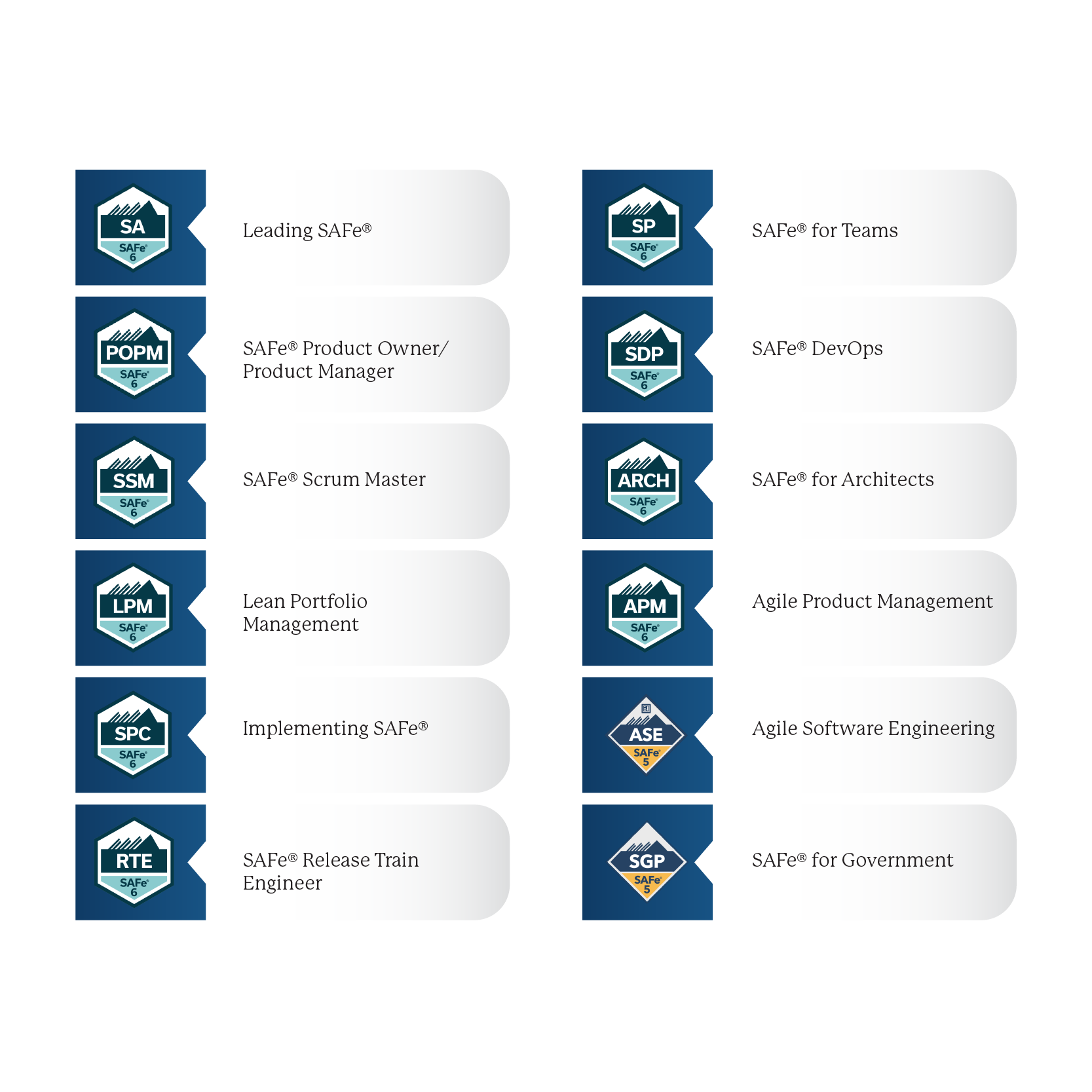 What are the benefits of a SAFe certification?
Taking up a SAFe certification will not only educate you and give you an advantage over the rest but it will also grant you all kinds of benefits.
Some of those benefits are;
Individual Benefits
Gives a better grasp of the SAFe approach and how to apply it.
Provides globally recognised certification.
Gain knowledge and comprehension of SAFe.
More opportunities for career advancement as it is applied in multiple industries.
Access to a community of SAFe practitioners.
Get a hike in salary.
Increases your market value.
Empowers you with the skill to lead transformation.
A SAFe certification will set you apart.
Enhances your skillset.
Organizational Benefits
Increase the quality of your products and services without running over your budget, time and resources.
Establish an effective change response system.
Improve communications and collaborations throughout the organization
Discover and develop future leaders for your organization.
Help in taking better organisational decisions.
How to get SAFe certified? Getting SAFe certified is relatively easy. All you need to do is ensure you meet the requirements for the examination. Let's see what they are;
Steps to get SAFe certified
Attend a Course - Take part in a course or workshop taught by a certified professional
Gain SAFe knowledge - Learn how to apply SAFe values and principles in a proper way.
Access the SAFe Community- Interacting with individuals with similar interests as you can help you clear any doubts you might have.
Take the Exam - Once completed, you will receive your new certification along with a digital badge.
Who can take up a SAFe certification?You won't have a problem taking up the SAFe Agilist certification training course if you are;
An executive
A senior manager
A quality analyst
A Director
A VP
A Program and Project Manager
A Product Manager
A portfolio manager
An enterprise architect
A solution architect
How can SAFe be used in Agile Project Management? SAFe Agile is one of the best project management approaches for large and fast organizations to scale Agile development practices and cater to various teams and projects without disrupting the business workflows or facing communication issues.
It can also help organizations improve their business agility by focusing on 7 key areas to improve the operations and output. They are;
Lean Agile Leadership
Leaders need to shape the Lean-Agile mindset and culture into the organization.
Teams and Technical Agility
Teams must be able to implement systems that change the strategy based on the situation.
Agile Product Delivery
Organizations must adopt a customer-centric approach to product and service development.
Entreprise Solution Delivery
This process is employed by organizations to develop, deploy, operate and improve enterprise level software.
Lean Portfolio Management
This approach provides a full overview of products and services to provide the necessary funding for business goals.
Organizational Agility
Organizations require feedback to act quickly and adapt to market conditions.
Learning Culture
Teams must consist on individuals that are open to new ideas and, information, process, tech and more, which helps find better solutions to problems.
Conclusion
A SAFe certification does not only benefit organizations, there are multiple benefits that can help you grow in your career while also giving you an advantage with your certification.
And with the introduction of SAFe 6.0, we have a new and improved process to help facilitate development projects with numerous parts and enhance coordination and collaboration across teams and stakeholders.