With the demand for Scrum professionals growing, employment rates are set to increase by 24% yearly till 2026.
Thus, showing us that it is the best time to get into organizations that are adopting Agile methodologies.
About Scrum
Scrum is a framework that helps manage teams using certain practices and principles.
According to Scrum Alliance, It depends on different teams to deliver products and services in small loops that help with:
Quick feedback
Improved innovation
Continuous growth
Improved adaptability
Customer satisfaction
Faster time to market
Who are Scrum Masters

Leaders that use Agile techniques to help enhance the performance of their teams are called Scrum Masters.

They help ease team collaboration, communication and facilitate Scrum events such as Sprint Planning, Daily Scrum, Sprint Review, and Sprint Retrospective, and ensure that the team follows the Scrum framework and adheres to the Scrum values of focus, courage, openness, commitment, and respect.
Who should take the Scrum Master course?

The Scrum Master Certification is right for you, if you are a team player and have good communication skills.
Being certified can also be a major bonus when it comes to proving that you have the necessary skills to lead an Agile team.
The Scrum Master course can be taken by:
Project Managers
Product Owner
Software Engineers
IT Professionals
HR Managers
Developers
QA/Testers
Business Analysts
Recent Graduates
Team Leads
By learning how to be a facilitator and coach, you will be able to help teams understand and apply Scrum practices.
You can also help the team be more effective by extracting obstacles that could interfere with the team meeting their goals.
Benefits of a Scrum Master Certification
Being certified helps you get established in an organization.
You must be able to identify any issues while making sure that the tasks are completed.
Validates your Scrum knowledge.
It proves that you've put in the work to be where you are now.
How to become a Certified Scrum Master?
Here's a list of the steps involved to become a certified Scrum Master;
1. Learn about the Scrum framework. Having knowledge about Scrum can help you lead teams to perform better and complete their tasks faster.
2. Get certified.All you have to do is register for our upcoming 2-day course, complete it with the help of our world class trainers and ace your test!
Certified Scrum Master(CSM) Certification Exam
To get the CSM certification, one must;
Register for a CSM course.
Attend a 2-day class.
Appear for the exam
Pass the exam.
Get certified
Things to keep in mind
There are currently four versions of the exam so the exam you see may differ from those others receive but all are targeted to have questions of the same difficulty.
The exam has 50 questions. You will have one hour to complete the exam. The passing score is 74% or 37 correct answers.
You must complete the exam within 90 days of taking your Certified Scrum Master course.
Immediately after submitting your answers, you will be told if you passed. Additionally, you will have the ability to see which questions you answered incorrectly (but not the correct answer).
You must renew your Certification once every 2 years to ensure that it does not lapse.
3. Gain experience as a Scrum Master.
Learn the roles and responsibilities of a Scrum Master and understand what they have to do.
4.Stay up-to-date.
Being a Scrum Master entails being quick to react and staying up to date on trends that can help ensure relevancy.
5. Renew your certification.
Don't forget, once you are certified, you will need to renew your certification every 2 years.
The responsibilities of a Scrum Master
As a Scrum Master, some of your key responsibilities will be;
Ensuring teams follow agile practices and processes.
Have daily meetings to increase productivity.
Understand what each individual has planned for the day.
Maintain good communication with the team and Product Owner.
Make sure continuous progress is visible.
What are the key Scrum Master Skills?
Due to the never ending list of responsibilities that a Scrum Master has, a certain skill set is needed to be effective.
This list of qualities can be seen below;
Developing Scrum Knowledge
Leadership skills
Team collaboration
Organizational skills
Understand project management tools
Good listening skills
The ability to adapt
Scrum Master Salary Stats
According to a survey by Age of Product, based on 10,000 salaries, The average scrum master salary in the USA is $116k per year or $55.37 per hour.
In 2022, Entry level positions started at $99,000+ per year while most experienced workers made up to $140,000+.
Read more about the scrum master salary report 2022 here.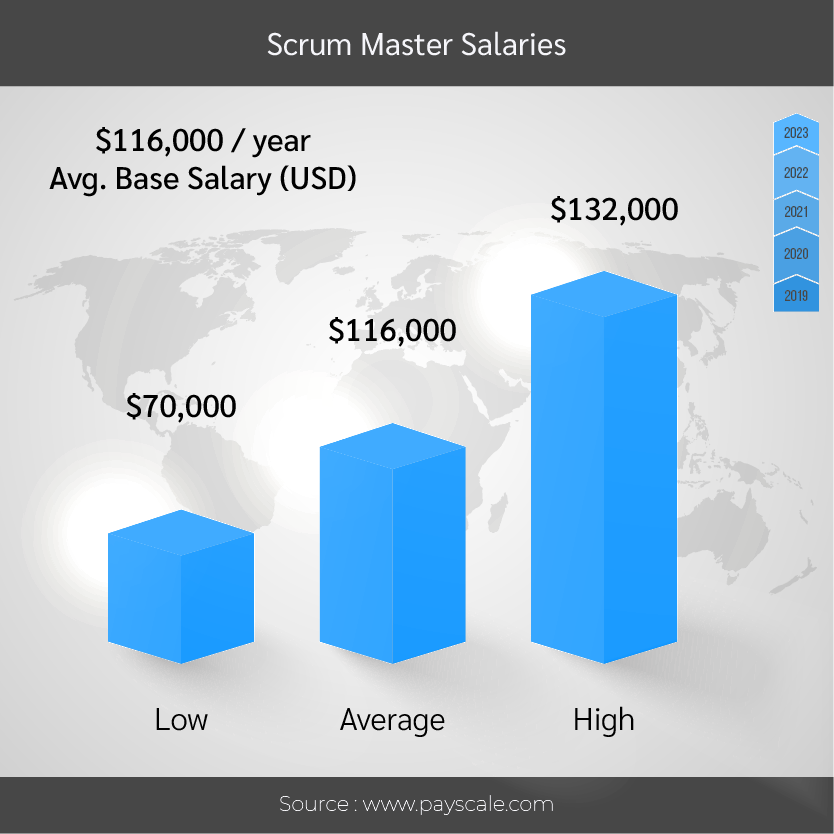 The role demand is set to increase by 43% over the next 2 years.
Business Benefits of Hiring a Scrum Master
Scrum Masters help improve organizational processes by measuring cycle times and making the necessary adjustments to reduce time to market.
A few key benefits of hiring a Scrum Master are;
Better customer satisfaction
Quicker time to market
Better quality
Improved progress visibility
Increased collaboration and ownership
CSM Course by Skillbook Academy
By taking the Skillbook CSM Course, you will earn;
• Two days of online virtual classes• 16 PDUs and SEUs• Two-year membership to the Scrum Alliance and more.
Scrum Master FAQ
Do I need prior work experience to become a Scrum Master?
Scrum Masters do not need to have technical skills but must have a thorough understanding of Scrum rules, practices, and values.
How can I prepare for a Scrum Master certification exam?
One way to prepare for the Scrum Master Certification exam would be to;
Revise the class notes.
Take practice tests.
How long is a Scrum Master certification valid?
The Scrum Master Certification is generally valid for 2 years from the date the certificate is issued.
How do I renew my Scrum Master certification?
To renew your certification, head to the Scrum Alliance website and log in.
Steps for Renewal
Submit the required SEUs for your certification.
Pay the renewal fee for your certification.
The SEU requirements and renewal fees that you need to pay for renewing your CSM® certification are as follows:
Certification: CSM®
SEUs required: 20
Fee: $100
Summary
Getting certified as a Scrum Master can open a whole new world of opportunities for your career and can help you help others follow Agile practices the right way.
The estimated career growth ensures that your career can only lead to better heights with even better pay.
As it is a field that is rapidly growing and adapting, taking the leap into Agile would be the right step for you.
Related Blog: HOW TO GET A CERTIFIED SCRUM MASTER BADGE