For you to get a Certified Scrum Master Badge, you are first required to attend a training session or two.
But before we get into how you get a Certified Scrum Master Badge, let's get to know a little more about what it is.
Certified Scrum Master Badge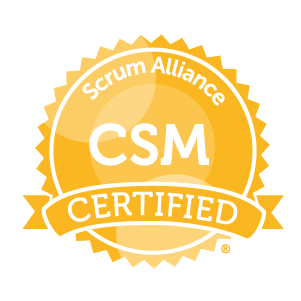 The Certified Scrum Master Badge was created to help people become experts in the field.
Once you've received your badge, you can lead teams in practicing Agile software development.
A Certified Scrum Master has great understanding of the roles and responsibilities, eases communication and team collaboration.
Benefits of a Certified Scrum Master
The benefits of having a Certified Scrum Master Badge vary from showcasing your skills to improving team collaboration.
Some of them are;
It proves your mentoring eligibility and improves your selling ability.
Being certified helps you get established in an organization.
You must be able to identify any issues while making sure that the tasks are completed.
Validates your Scrum knowledge.
It proves that you've put in the work to be where you are now.
How to get a Certified Scrum Master Badge?
There are no specific requirements to become a certified Scrum Master, but once certified, you will receive the badge to validate your achievement.
What you have to do to become a Scrum Master;
You must attend a workshop or a course that is taught by a CSM trainer.
With hands-on skills from the workshop or course, passing the test should be relatively easy.
To pass the exam, you must score 75% or above.
Once you've passed the exam you will be fully certified and can use your badge to prove it.
But remember, to keep your certification from expiring, you must renew it every 2 years while continually learning and improving your skill set.
That's what will help you grow in your career.
If you're wondering where you can take up a course or workshop to become a Certified Scrum Master, look no further because you can begin your Certified Scrum Master journey right now.
Getting certified also gives you the opportunity to network with some of the best Agile minds in the business and can give you a sense of community.
Summary
In this blog, we've learnt the steps and benefits of getting your Certified Scrum Master Badge
The only requirement is that you attend a workshop or course and learn about everything Scrum.
Once you're done with that, all that's left to do is pass the exam.
After you score 75% or above, you will receive the badge as proof of completing your certification and can put it up for display on your LinkedIn as a Badge of Honor.
Remember, Certified Scrum Masters earn about 40% more than their uncertified ones and it takes only two days to become a CSM.