Are Millennials really the most studied generation in history?
'Oh yes, they are,' says the US Chamber of Commerce foundation.
This young generation of workers has intrigued many researchers over the years. Their creative acumen, work hard play hard persona and tech-affinity helped redefine the way work gets done and delivered.
Amid this post-pandemic trauma and transformation, there's an interesting development gaining some attention across organizations.
Millennials have come of age to assume leadership positions in their organizations.
According to LinkedIn, the global population of millennials in the workplace has reached an astounding 41.4% and will remain a majority till 2030.
So, millennials won't just be serving us. They will also lead us.But if you know a thing or two about their ambitions, you might have already guessed what it means — War for talent.
Millennials change jobs more frequently than others. Six in ten millennials are open to new job opportunities.
So retaining your millennial employees is going to be crucial for businesses in this post pandemic era.
How to Attract and Retain Millennial Employees
Being born in the age of technological revolution influenced millennials both personally and professionally. For them, experiencing the well known and exploring the unknown are not two different things.
These attributes manifest in their workplace personas and priorities as well. So, opportunities that fulfill both their wants and needs intrigue them more often than not. Here's what you should consider if you want to intrigue millennials for the long run.
1. Give Millennials What They Want and Need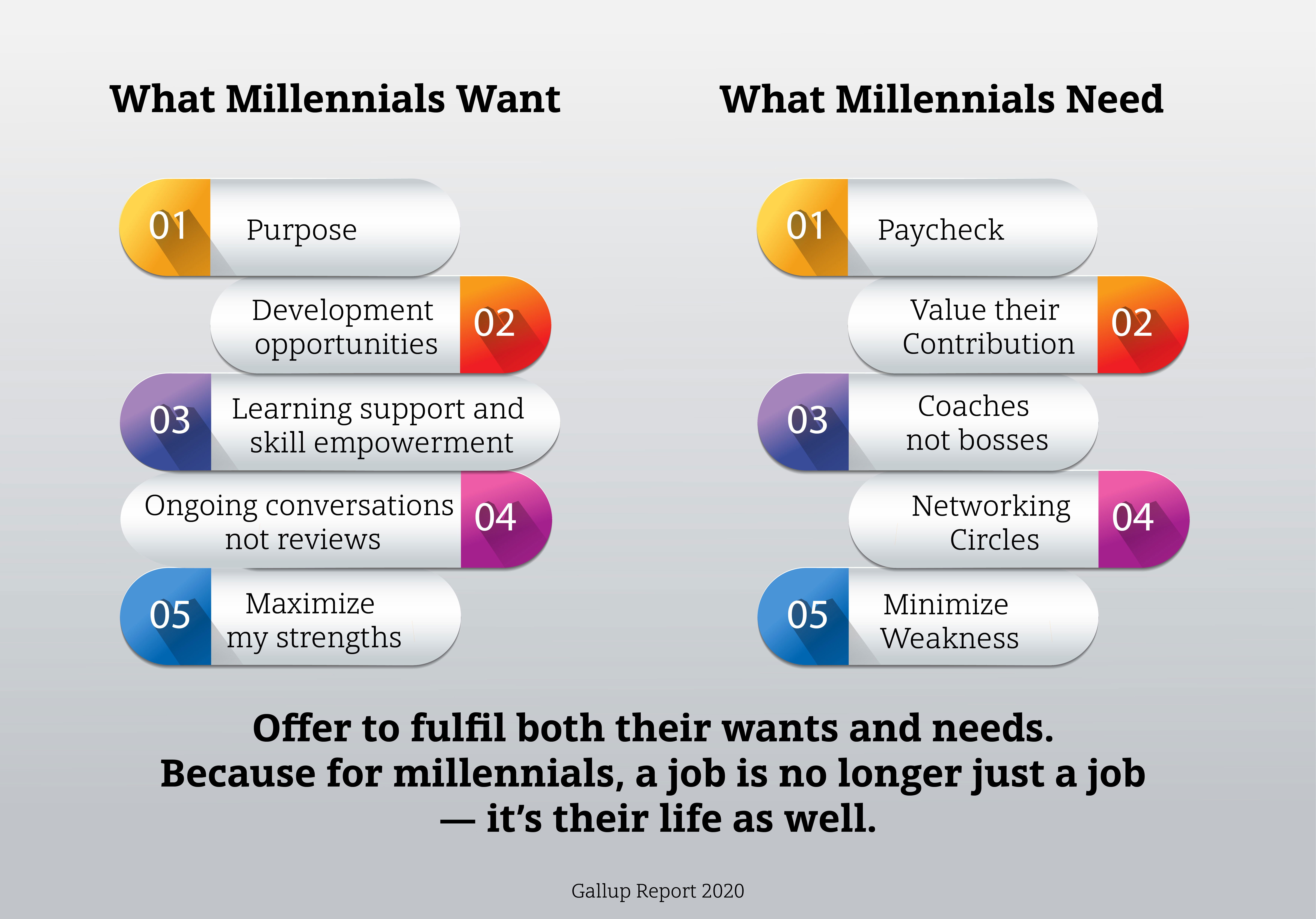 2. Improve internal communications
Millennials want to be involved in every aspect of the business. They want to see that their work is contributing to the growth of their company. That is why employers should enrich internal communications to keep them informed and motivated.
They prefer ongoing conversations to replace annual reviews. Be it texting, tweeting, liking or face timing, their choice of communication is on-point and on-time. This dramatically affects the workplace because it influences their productivity and workplace engagement.
Since millennials are avid users of mobile technology, they expect their employers to enhance workplace communications using mobile technology.
We've already seen how handy mobile devices are during our remote work phase.
3. Support learning and development
Companies that invest in their people's learning and development interests have lower turnover rates. Millennials understand how important these upskilling and reskilling opportunities are to progress their careers.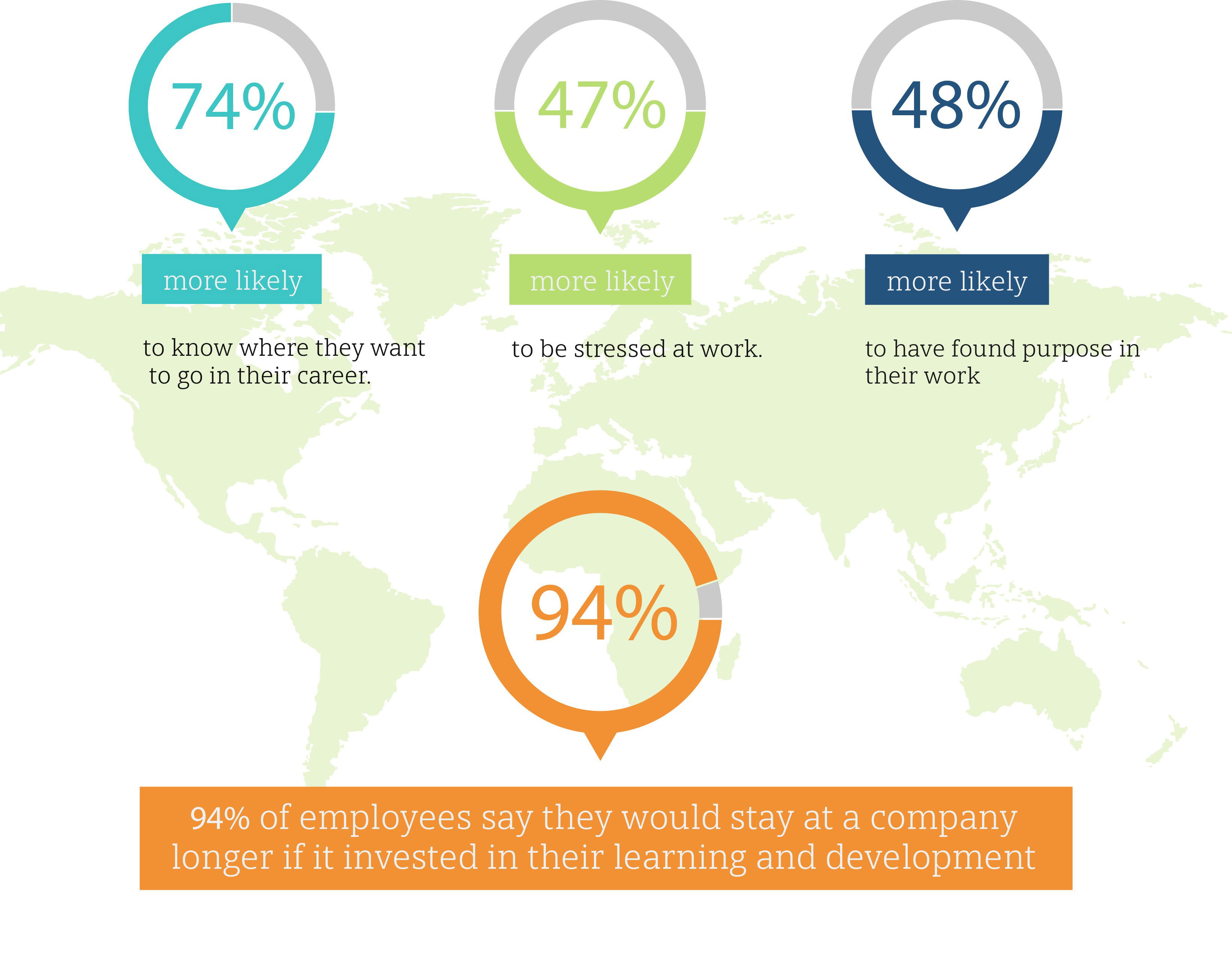 According to a report by Statista, the average training hours per employee increased to 102.6 in 2020 from 44.1 in the previous years. These numbers show how much your employees want to upgrade their potential. However, such an enormous leap in learning activity may punch a hole in your pocket.
That's what makes elearning an ideal solution. Using technology, you can offer live-online classes, virtual workshops, on-demand courses with personalized learning recommendations to your employees.
4. Offer career growth opportunities
During their formative years, most millennials were told that they can achieve anything in life. This instilled both confidence and a craving for responsibility in them.
That's why a clear path for rapid progression is priceless to them. 91% of Millennials consider the opportunity for rapid career progression as one of the most important things about their job.
There's a common belief that millennials pursue paycheck more than anything. But when you compare their salaries with those of other generations, you clearly see that's not always the case. Millennials are pursuing status, societal influence, and recognition. That's why rapid growth opportunities always win the bargain against paycheck.
To attract and retain millennials in the workplace, employers must communicate to their people that they will offer leadership roles, international placements and many more growth opportunities to them.
5. Ownership Empowers Millennials
Employee empowerment is all about giving people ownership of their work and allowing them to decide on their own. However, many organizations are not sure about how to do this.
As we are already in the moment, it's time to delegate crucial responsibilities to millennials. With their affluent creativity and concern over their influence on the organization, millennials are more than capable of pioneering change.
When employees feel empowered in their organizations, they are 20% more likely to stay in their roles according to a survey by TINYpulse.
Are Millennial Employees Really that Disloyal?
It would surprise you that the answer to that question is actually a big No.
In a survey conducted by Robert Walters group, they found that 41% of millennials expected having five employers or fewer before retirement. Only 23% of Gen Xers and 29% of Boomers had the same intentions.
This clearly shows that millennials want to spend over 10 years at a single organization in a career spanning over 45 years.
If you want to make the most out of your millennial workforce, investing in their training and development is way ahead.